A New Way to Engage With Your Data
It's all about the data and access to data. It's a brand new way of engaging with your business. It's ESP in the cloud but different. It's an intelligent approach to business. It's strategic planning. It's a unique API. It's the internet of things. It's Nano.
ESP just got a lot smarter.
Why Choose Nano?
South Africa's most widely used salon and spa software just went to the next level!
Nanodrive
With your new Nanodrive all your ESP data is stored in the cloud. Now you and your clients can engage with it anywhere, anytime.
Responsive User Interface
A light, fresh and easy-to-work-with interface puts your business in the palm of your hand no matter what device you use.
Real-time Intelligence
Intelligently constructed dashboards tell you exactly where to focus your energy in real-time
Features and Details
Your data when and where you need it anywhere, anytime, on any device.
NanoDrive
Your ESP data in the cloud
Daily Dashboards
Critical real-time data at a glance
Detailed Analytics
Business Intelligence and trend analysis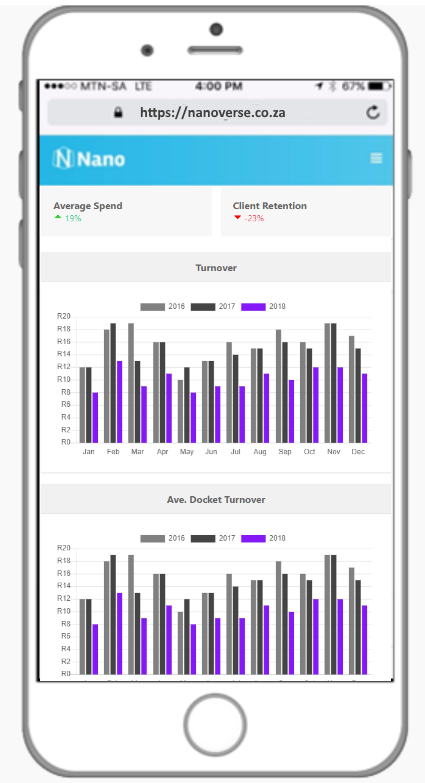 Client Online Bookings
Controlled by an intelligent rules engine
API For Everything
Let your web developers and partners engage with your data
More To Come
As we bring you more exciting features
ESP Nano includes all of the inherent knowledge and reliability you have come to expect from the most trusted name in the industry with the ease and simplicity of cloud-based software.

Nano helps me keep a finger on the pulse of my business so that any faltering in sales or performance can be caught quickly and rectified. The insights are invaluable in unmasking where my business is flourishing, and where we are dropping off so that special attention can be given before itís too late.
- Dr Melanie Lambrechts | The Centre of Wellness
NanoDrive
FREE to ESP Membership Subscribers
Nano Dashboard
FREE to ESP BI Subscribers
Nano Bookings
Contact us now to find out more